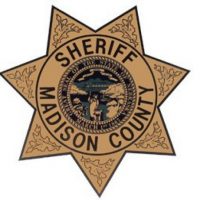 MADISON- Authorities have arrested a man after he fled from the Madison County Courthouse.
At 1245pm Friday, 21 year old Pacey Nicklen was apprehended by the Madison County Sheriff's Office. The Sheriff's Office says Nicklen had his bond revoked in Madison County Court and ran from the Courthouse and entered a cornfield East of the Courthouse in Madison Thursday afternoon. Officers searched cornfields Thursday and into Friday morning.
Nicklen was wanted for his previous and current charges.