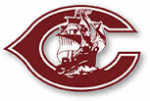 Columbus High School has announced that Tim Kwapnioski will return to his alma mater as the Activities Director for next school year.  
After graduating from CHS, he earned a bachelors degree from South Dakota State University and masters degrees from Wayne State College and the University of Nebraska Kearney.  
Kwapnioski has been a teacher at North Park and Emerson Elementary schools and a coach for the Discoverers in football and track. He has also worked for the Norfolk Public Schools and is currently with the Gering Public Schools.  
He'll replace Dave Hiebner, who's becoming Principal at Columbus High.