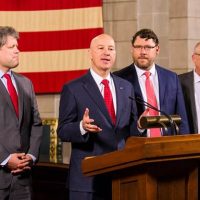 LINCOLN- A state highway bypass around Lincoln could get finished years ahead of schedule thanks to a new construction timeline.
Gov. Pete Ricketts announced the accelerated timeline for the Lincoln South Beltway on Monday with state senators, transportation officials and Lincoln Mayor Chris Beutler. The project will create a four-lane, 11-mile east-to-west freeway south of Lincoln connecting Highway 77 and Highway 2. It's designed to reduce the number of heavy trucks passing through town. The original timeline called for eight years to finish the project. 
The Department of Transportation now says it can finish it by the end of 2022.