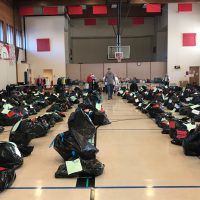 COLUMBUS- Hundreds of families and children will have a merrier Christmas this year.
On Saturday, the Holiday Spirit Coop distributed gifts to over 1,700 children, 500 families, and dozens of elderly people. The Coop is a group of volunteers working to coordinate the giving efforts of the Columbus community during the holidays. Throughout the campaign children are adopted at local churches and businesses. Community members then purchase new gifts for the children that are adopted. The Holiday Spirit Coop then puts together the gifts for families to pick up.
This is the 23rd year for the Holiday Spirit Coop.