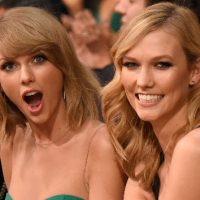 Kevin Mazur/AMA2014/WireImageThere's more fuel for those rumors of a rift between Taylor Swift and model Karlie Kloss: Karlie was spotted hanging with Taylor's rival Katy Perry last night.
As seen in pics featured on TMZ, Karlie is seen grabbing sushi with Katy and author Derek Blasberg in L.A.
While Karlie was featured in Taylor's "Bad Blood" video and was a staple in her squad, the two haven't been seen together in a while. Back when the two were close, Karlie referred to Taylor as her "ride or die" as well as her "friend, sister and partner in crime."
The model previously sparked rumors that she was throwing shade at Taylor earlier this year when she posted a photo of her basketball-themed LOVE Magazine advent calendar shoot, along with the caption "Swish Swish."
"Swish Swish" is, of course, also the name of Katy's diss track, which apparently took aim at Taylor. Karlie later changed the caption.
Copyright © 2018, ABC Radio. All rights reserved.