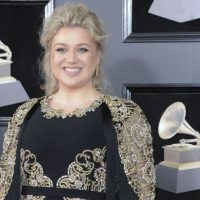 Jeff Neira/CBS Leave it to Kelly Clarkson to come up with the best response to Recording Academy president Neil Portnow's comment Grammy night about women needing to "step up" if they want to succeed in the industry.
As previously reported, Portnow was asked by a reporter backstage how female executives and artists can advance in the music industry, and he replied, in part, "It has to begin with…women who have the creativity in their hearts and souls, who want to be musicians, who want to be engineers, producers, and want to be part of the industry on the executive level…[They need] to step up because I think they would be welcome."
Portnow's comments were met with outrage, anger and disbelief by many, including female executives and artists like Pink, Sheryl Crow, Iggy Azalea and Charli XCX. Now Kelly's weighed in on Twitter.
"A confused soul said women need 2 'step up' their A-game if they wanna start winning & u know what I'm not even mad at ignorance," she wrote. "I'm just gonna kindly point u n the direction of my A-game album I recently dropped #MeaningOfLife #UrWelcome I Jenna Dewan'd that s*** y'all #stepup."
Kelly's comment was a reference to actress and dancer Jenna Dewan — now Jenna Dewan Tatum — who starred in the 2006 film Step Up.
As previously reported, Portnow walked back his comments earlier this week, saying, "Regrettably, I used two words, 'step up,' that, when taken out of context, do not convey my beliefs and the point I was trying to make. Our industry must recognize that women who dream of careers in music face barriers that men have never faced."
He added, "I remain committed to doing everything I can to make our music community a better, safer, and more representative place for everyone."
Copyright © 2018, ABC Radio. All rights reserved.