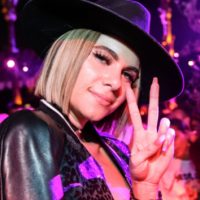 Thaddaeus McAdams/FilmMagicLeah LaBelle, a.k.a. Leah Vladowski, a singer who came in twelfth on the third season of American Idol in 2004, has died.
ABC News has confirmed that Leah and her husband, former NBA player Rasual Butler, were killed in a car crash early Wednesday morning in Studio City, California. The couple was traveling in a Land Rover on Ventura Boulevard when they drove off the roadway, collided with the curb, three parking meters and a concrete wall before flipping over twice. Leah, 31, was pronounced dead on the scene.
The Los Angeles Police Department, Valley Traffic Division is currently investigating the accident and believed that speed was a factor.
Leah was born in Canada, the child of Bulgarian singers who defected during a tour of Western Europe in 1979. She auditioned for American Idol in 2003 with the Whitney Houston song "I Believe in You and Me" and received a ticket to Hollywood. She made the semi-finals, but when she failed to make the finals, Paula Abdul brought her back as a wildcard pick.
Butler, 38, played with the Heat, Hornets, Clippers, Bulls, Raptors, Pacers, Wizards and Spurs.
Leah was signed to a record deal in 2011, but never released a full-length album.
Fellow American Idol alum Jordin Sparks mourned Leah and some family members on Instagram, writing, "Four angels in a week. My heart is just so heavy & broken. I'm in shock, numb and feel everything all at the same time. Leah & Rasual (one of my closest friends and her amazing partner), Bryanna (my step sister) and Q (my little cousin), you were such bright lights in this crazy world…The world is less sparkly without you in it. Rest In Peace and Power. I love you forever."
Copyright © 2018, ABC Radio. All rights reserved.