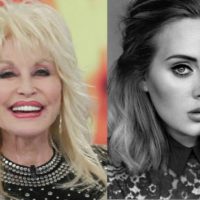 ABC/Lou Rocco; Alasdair McLellan
One day after Adele expressed her admiration for country music icon Dolly Parton and posted a photo of herself dressed up like Parton — complete with blonde wig, guitar and cleavage — Dolly is now fangirling right back at her.
"Hey! Adele likes me?" Dolly responded in a video on her socials. "I was knocked out, I was so honored. I was so flattered. I loved your outfit. I thought that was great. I think I had an outfit just like that back in the day. In fact, I thought that was a picture of me back in the day!"
In her photo caption, Adele called Dolly "the effortless queen of song," adding she wished she "could possess an ounce of your ability."
"I was really touched with what you said," Dolly countered. "I was really honored that you would even know me that well or like my music. So I just wanted to thank you and say you're makin' me look good!"
Dolly couldn't resist ending with her trademark humor: "So if I can have just a fraction of your fans, that'll help me…help me buy some cheaper wigs and some more clothes…I'm gonna dress like you next time. I love you!"
While the two have yet to meet face-to-face, Dolly confirmed in the past that they once tried to set up a writing appointment when Adele was in Nashville, though it didn't ultimately work out.
Copyright © 2018, ABC Radio. All rights reserved.