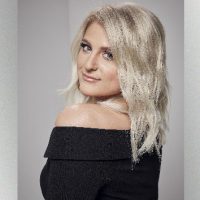 Brian Bowen Smith / FOXMeghan Trainor's a judge on the new Fox show The Four, but she hasn't forgotten about her day job: Her third album's due in the near future. While she's convinced it's great, the Grammy-winner also admits she's "terrified" people won't like it.
"I just finished it and I am so confident in this one," she told reporters at the Television Critics Association press tour last week. "Everyone who listens to it says, 'Wow…you really reinvented yourself.' But you're also terrified, because you're, like, 'Well that's what you think, but what about a stranger who lives in Connecticut? What do they think about it?"
As to describe the new music, Meghan laughs, "It just sounds big and loud."
"I have my family members singing on every single song because I wanted big vocal songs," she explains. "So…there's no such thing as a quiet, little love song. They're all big, in your face, booming, kinda '80s, but soulful…And my father's playing on a song."
Meghan says when it came to song topics, her new fiance, actor Daryl Sabara, gave her plenty of inspiration.
"I'm engaged, madly in love," she laughed. "Y'know, like, 'I wanna be with you forever. I pick you and I feel safe here and this is perfect.' It's one of those magical love stories, so I wrote a lot about that."
But it's not all hearts and rainbows. Meghan says her 2016 vocal surgery also inspired her.
"I went through a little dark tunnel with my second surgery, and mentally was really depressed and sad," she admits. "And I was like, 'I choose to be happy, I don't wanna do this anymore.' And I wrote a lot about that."
There's no release date yet for Meghan's new album, the follow-up to 2016's Thank You.
Copyright © 2018, ABC Radio. All rights reserved.