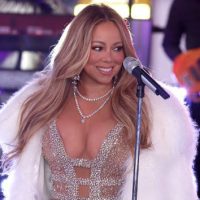 ABC/Heidi GutmanTwo former American Idol judges will be presenters at this Sunday's Golden Globes.
Mariah Carey, who's nominated this year in the category of Best Original Song, and Keith Urban, whose wife Nicole Kidman is a nominee for her work on Big Little Lies, will both hand out trophies at the NBC awards show, Billboard reports.
Both Keith and Mariah were part of the drama-plagued judges' panel on American Idol season 12.
Things are better for Mariah since then. She's fresh off her triumphant return to Dick Clark's New Year's Rockin' Eve with Ryan Seacrest. It's not known if Mariah plans to drink hot tea throughout the Golden Globes ceremony, instead of the usual champagne.
Kelly Clarkson and Ricky Martin are also presenting at the show. Of note: Kelly voiced one of the characters in the animated movie The Star, and Mariah's nominated for co-writing the movie's title theme.
Will Kelly end up handing Mariah the trophy? Tune in to the Golden Globes Sunday night at 7:30 p.m. ET to find out.
Copyright © 2018, ABC Radio. All rights reserved.