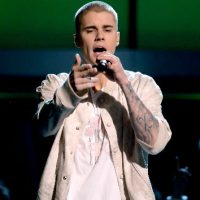 Photo by Kevin Winter/Getty Images via ABCNext month, a museum in Justin Bieber's hometown of Stratford, Ontario will open an exhibit dedicated to one of city's favorite sons.
On February 18, The Stratford Perth Museum will open Steps to Stardom, which traces Justin's rise to fame through hundreds of items of memorabilia. The exhibit, which was created in partnership with Justin and his family, will feature selections from his collection of awards, clothing, pictures and letters. In addition, local residents have also offered their own Justin-related memorabilia to the exhibit.
The local paper, The Stratford Beacon Herald, reports that the museum reached out to Justin's grandparents, Diane and Bruce Dale, and asked them if they wanted to help them curate the exhibit. They got permission from Justin and his management, and then Justin himself coughed up items like his hockey bag and jacket, his Grammy, Emmy and Teen Choice awards, and a platinum record award for his 2002 debut, My World.
If you'd like to see the exhibit, you'll have a lot of opportunity, because there is currently no closing date for Steps to Stardom.
Copyright © 2018, ABC Radio. All rights reserved.