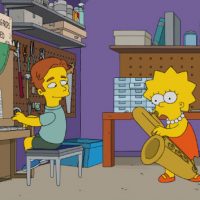 FoxEd Sheeran is kicking off the new year in animated style, with a cameo on this Sunday's episode of The Simpsons.
A preview of his role shows him playing the piano while sipping from a grape juice box. Lisa looks on and when he's done playing, Ed snaps, "You didn't applaud."
In another scene, while the two play their music in another room, Homer bangs on the wall and says, "Oh no, they're playing in time to the beat of my banging!"
As previously revealed, the episode is titled "Haw-Haw Land" and is a take on La La Land. Ed plays musician Brendan, a love interest for the saxophone-playing Lisa.
The episode airs at 8 p.m. ET on Fox.
Copyright © 2018, ABC Radio. All rights reserved.