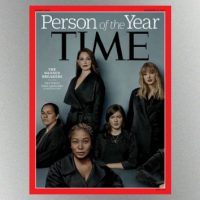 TIME/Photography by Billy and Hells for TIMEShe was one of a group of women who made TIME magazine's Person of the Year cover under the name "The Silence Breakers." Now, Taylor Swift is putting her money where her mouth is when it comes to ending sexual harassment.
People magazine reports that Taylor has donated $100,000 to the legal defense fund for Time's Up, a new initiative launched by some of Hollywood's most powerful women. Oprah Winfrey also gave $100,000, while Emma Stone, Natalie Portman, Jessica Chastain, and Cate Blanchett kicked in $50,000 each, according to People.
More than 300 notable actresses, female directors, executives and producers — including Reese Witherspoon, Shonda Rhimes, Meryl Streep and Jennifer Aniston — are behind the initiative.
Time's Up includes a legal defense fund to help less privileged women protect themselves against sexual misconduct, a drive for gender parity, a call for legislation to punish companies that tolerate harassment, and a request that women at the Golden Globes wear black on the red carpet.
Taylor was named as a "Silence Breaker" for counter-suing a radio deejay for sexual assault, after he groped her at a meet-and-greet, and then sued her for millions, accusing her of causing him to lose his job. Taylor won the case, and a symbolic one dollar.
Copyright © 2018, ABC Radio. All rights reserved.