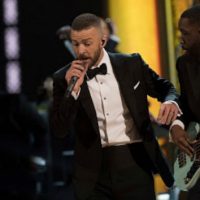 ABC/Eddy ChenLate last year, there were reports that Justin Timberlake had trademarked the phrases "Man of the Woods" and "Fresh Leaves," supposedly in preparation for the release of new music. Now the singer's website has confirmed that Man of the Woods is the name of Justin's new album, and we'll get it February 2.
A video on Justin's website shows the singer in a variety of rugged outdoor settings: a snow-covered field, submerged in a pond, walking through what looks like a cornfield, dancing next to a bonfire, and looking at a landscape where wild horses run. We also see him kissing his wife, Jessica Biel, and holding a child whom we assume is their son, Silas.
"This album is really inspired by my son, my wife, my family, but more so than any album I've ever written, where I'm from," says Justin. "And it's personal."
We also hear a few snippets of music, and see footage of Justin in the studio with Pharrell Williams, who says, "It feels so earthy, just where you are in your life right now." He adds, "That is a smash!"
In addition, we hear a female voice saying, "It feels like mountain, streams, campfires. Like Wild West, but
The first single from Man of the Woods will arrive Friday. Looks like JT will have some new music to play when he takes the stage at the Super Bowl next month.
Copyright © 2018, ABC Radio. All rights reserved.