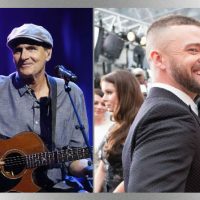 ABC/Randy Holmes; ABC/Adam RoseJustin Timberlake rang in 2018 with the man who was known as "JT" before he was even born: James Taylor.

The Boston Globe reports that Justin and James hung out together on New Year's Eve at the same event in Big Sky, Montana. According to the paper, Justin likes to call Taylor the "OGJT" — which stands for "Original Gangsta JT." The paper has a photo of the two of them together in the kitchen at the event: James is playing a guitar, while Justin is smiling.
As the paper points out, Justin appears to be a fan of the Rock & Roll Hall of Famer: Back in 2013, he tweeted about how much he was enjoying the PBS special that James and Carole King did together at the famed Los Angeles venue The Troubadour.
Earlier on Tuesday, Justin announced that his new album Man of the Woods would be coming out February 2. The rustic trailer for the album certainly looks as though it could have been filmed in Big Sky, Montana.
While Justin has said that Man of the Woods is "personal" and inspired by "where he's from," it's not known if that means the album has more of an organic, rootsy and folky sound — like the music made by, say, James Taylor, for example.
Copyright © 2018, ABC Radio. All rights reserved.