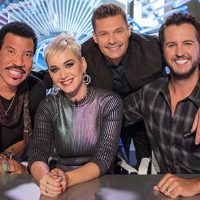 ABC/Eric LiebowitzOh, American Idol: how can we miss you if you won't go away?
On April 7, 2016, the history-making reality singing competition went off the air after 15 seasons on Fox. But in May of 2017, following weeks of rumors, it was confirmed: American Idol would be back…on ABC. While critics — and some Idol alumni — said it was too soon to bring the show back, ABC moved full steam ahead with plans for the reboot.
First came the news that Katy Perry had signed on as a judge, for a reported $25 million. But hopes that Kelly Clarkson would return to the show as a judge were dashed when, just days later, she announced she'd be joining NBC's The Voice for season 14. That same week, another notable American Idol alum, Jennifer Hudson, confirmed that she'd be joining The Voice for the show's 13th season.
Then came the rumors of Ryan Seacrest's involvement in the reboot. Shortly before ABC announced American Idol's return, Ryan had relocated to New York City to take a job as Kelly Ripa's co-host on Live with Kelly, but said in interviews that he'd still be willing to host Idol by flying back and forth to LA.
Then came a report that Ryan was ready to sign, but wanted more money — and the show's producers tried to lowball him because they were paying Katy so much. Ryan was so upset, went the report, that his reps asked that his name be withdrawn from consideration. ABC, which allegedly didn't know about this, freaked out, begged for another chance, and coughed up the money. Ryan finally confirmed he'd host the show in July.
Auditions got underway in August, as did weeks of speculation as to who the other two judges would be. Names including Charlie Puth, Motley Crue's Nikki Sixx, Keith Urban and Lionel Richie all came up, and at the end of September, Lionel and country superstar Luke Bryan were confirmed as judges.
In November, a March 11, 2018 premiere date for the show was announced. Also that month, footage of three contestants who hadn't made it to Hollywood was shown during the American Music Awards, and viewers voted on which one of them should get a Golden Ticket after all.
So far, there are no details on whether or not American Idol's format will be different on ABC.
Meanwhile, Fox moved to counter the loss of Idol to ABC by announcing a new singing competition, The Four, with guest judges Meghan Trainor, Diddy and DJ Khaled, and host Fergie. That show premieres January 4.
Copyright © 2017, ABC Radio. All rights reserved.