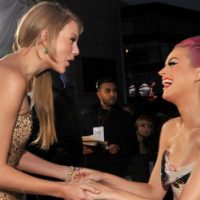 Lester Cohen/AMA2011/WireImageDoes Katy Perry make a cameo in Taylor Swift's new video?
That's the rumor that's been circulating ever since footage of the video shoot surfaced — and appeared to show a back-up dancer that looks suspiciously like Katy.
A source tells E! News that Taylor and Katy buried the hatchet while they were both in Miami this week and that Katy did indeed film an appearance in the "End Game" video.
The two singers haven't confirmed anything yet.
Over the summer, Katy apologized to Taylor on her Witness live stream, but Taylor did not respond publicly.
The "End Game" video footage also raised eyebrows because it appears to show Taylor wearing a tight top and weirdly enhanced-looking boobs.
Copyright © 2017, ABC Radio. All rights reserved.