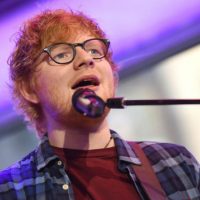 ABC/Paula LoboRussell Crowe apparently had a hand in Ed Sheeran's collaboration with Eminem.
Ed tells Billboard the song, called "River," was actually written at the actor's Australian home last year.
"I get an email from Paul Rosenberg, Eminem's manager, and he said, 'We're gonna start putting the album together, send any ideas,'" Ed explains, adding that he already had an idea in mind.
Ed, who was in Australia at the time, adds, "So I used the studio at Russell's house… played the drums on it, and then played the guitar, and then recorded the thing and wrote the chorus and did the piano on it, and then sent it off and then didn't hear anything back. This was like March 2016."
Over a year later, in May 2017, Ed got word that Eminem had recorded verses for the song. Ed says he got to meet Eminem in Detroit when he played there and described the rapper as "such a sweet, talented guy."
Eminem's new album, Revival, is due out this Friday.
Copyright © 2017, ABC Radio. All rights reserved.