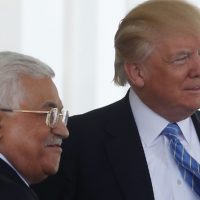 Mark Wilson/Getty Images(WASHINGTON) — Palestinian President Mahmoud Abbas will not meet with U.S. Vice President Mike Pence during his upcoming trip to the Middle East because of the Trump administration's decision to name Jerusalem as the capital of Israel, according to Palestine's foreign minister.
Riyad al-Maliki said at the meeting of the Arab League in Cairo on Saturday that because of the decision, the U.S. has now "positioned itself as a party in a dispute and not as a mediator," according to Al Jazeera.
Alyssa Farah, the vice president's press secretary, said in a statement, "It's unfortunate that the Palestinian Authority is walking away again from an opportunity to discuss the future of the region, but the Administration remains undeterred in its efforts to help achieve peace between Israelis and Palestinians and our peace team remains hard at work putting together a plan."
President Donald Trump officially recognized Jerusalem as the capital of Israel last week and said the U.S. would begin the process of moving its embassy from Tel Aviv. The decision sparked protests and backlash across the Muslim world.
Protests have continued four days after the president's speech with demonstrations on Sunday outside U.S. embassies in Beirut, Lebanon, and Jakarta, Indonesisa, where both countries have a majority of Muslims. The Beirut protests turned violent when security forces fired tear gas and water canons into the crowds.
In Jerusalem on Sunday, Israeli police said a Palestinian assailant stabbed a security guard at the city's central bus station.
The Arab League is petitioning other countries to recognize East Jerusalem as the capital of a future Palestinian state. Palestinian President Abbas on Sunday visited Amman, Jordan, where he met with King Abdullah and said he was rallying international opposition to the U.S. decision.
"We communicated with the entire world and fortunately there was a positive response from all the countries in the world, from Europe, and from Africa and countries close to America that don't support the U.S. in this behavior," Abbas said. "The world's general opinion is very important. The actions taking place in the world now including the Arab region like Palestine, Jordan and others are very important. These all are messages to Trump that what he did is an unacceptable crime."
Copyright © 2017, ABC Radio. All rights reserved.