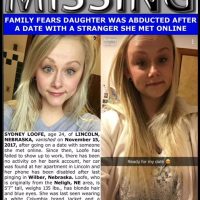 LINCOLN- The search for a 24 year old Lincoln woman continues.
Lincoln police are asking for any information on the whereabouts of Sydney Loofe who was going on a date Wednesday night and she didn't show up to work the following day. According to Loofe's Cousin Nick Schultze, she met a girl on the dating app Tinder and went out with her last Tuesday and Wednesday. Thursday night the family was notified that she did not return home. Schultze says Loofe's phone last pinged near Wilber. Authorities later searched a house in Wilber but didn't find any leads.
Schultze is asking anyone with information to contact them no matter how small the details…
Loofe, originally of Neligh is 5 feet 7 inches tall, weighs 135 pounds and has blonde hair and blue eyes. She was last seen wearing a white Columbia-brand jacket and a cream-colored shirt. Loofe has several tattoos to help identify her.
If you have any information you are asked to contact the Lincoln Police Department at 402-441-6000 or email findingsydneyloofe@gmail.com.