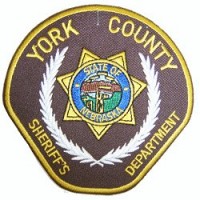 UTICA- The York County Sheriffs Office is on the lookout for a suspect that fled the scene of a car chase.
Officers in Seward County attempted to pull over a vehicle speeding on route 80 near the Utica Spur. The York County Sheriffs Office aided in the pursuit around 9:15 Thursday night. 2 males took off on foot with one of the suspects taken into custody last night. Officers continue to search for the other suspect in the Gresham area. He is described as a heavy set Hispanic male with a red plad shirt and a black vest. The suspect was last spotted between the Polk and York County Line. Police are warning citizens to be on the look out and pull keys from all vehicles.
If you think you see the suspect you are asked to call 911 immediately.