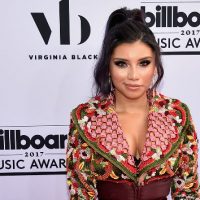 John Shearer/Getty Images via ABCPentatonix will go without their only female member this coming spring, as Kirstin Maldonado joins the cast of the Tony-winning Broadway musical Kinky Boots.
Entertainment Weekly reports that Kirstin will play Lauren, the love interest of the show's main character, Charlie Price. Her stint in the show will begin February 2 and end April 8. In a statement, she says, "Being on Broadway has been my ultimate bucket list goal since I was 8 years old, so I'm so excited to join such an incredible cast to share this special story."
Kinky Boots, whose songs were written by Cyndi Lauper, is based on the 2005 British film of the same name. It tells the story of Charlie, who inherits a shoe factory and saves the business by teaming up with a drag queen named Lola to create a line of woman's boots that are also comfortable for men.
Meanwhile, starting January 8, the role of Charlie will be played by Jake Shears, frontman of the band Scissor Sisters. He'll star in the show until April 1.
Copyright © 2017, ABC Radio. All rights reserved.