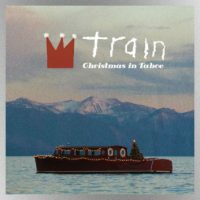 Sunken Forest Music/Crush MusicFor years, Train has raised money for their favorite charity via sales of their signature wines, but this year, they're throwing coffee into the mix.
As previously reported, the band has re-released their 2015 holiday album, Christmas in Tahoe, with five extra tracks, and in addition to it being available across all digital service providers, it's also being sold at nearly 250 Peet's Coffee bars across the country.
As part of the deal, Peet's will donate a dollar from the sale of each pound of its 2017 Holiday Blend coffee to Family House, the San Francisco-based charity that Train supports. Family House provides free support for families of children with cancer and other illnesses.
The standard version of Christmas in Tahoe features 17 tracks, including five brand new ones: "Cherry Tree Carol," "Blue Christmas," "Run Run Rudolph," "Please Come Home for Christmas" and "Merry Christmas Baby." Also included is the band's #1 version of "This Christmas." The Amazon Original Deluxe Edition includes 20 songs.
Here's the tracklist for the standard version:
1. "This Christmas"
2. "Christmas Must Be Tonight"
3. "The River"
4. "Christmas Island"
5. "Have Yourself A Merry Little Christmas"
6. "Merry Christmas Everybody"
7. "What Christmas Means To Me"
8. "Wait For Mary, Christmas"
9. "O Holy Night"
10. "Shake Up Christmas"
11. "2000 Miles"
12. "Tinsel and Lights"
13. "Merry Christmas Baby"
14. "The Cherry Tree Carol"
15. "Please Come Home For Christmas"
16. "Run Run Rudolph"
17. "Blue Christmas"
Copyright © 2017, ABC Radio. All rights reserved.