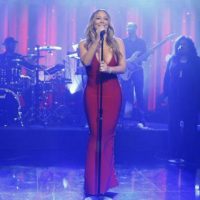 ABC/Randy HolmesHas Mariah Carey had surgery recently to shed some pounds?
According to Page Six, the international superstar "underwent gastric sleeve surgery" in October in order to lose weight.
A source says, "Mariah has always been proud of her curves, but this summer, as her Caesars Palace residency came to a close, and then she went on tour with Lionel Richie, she noticed it became harder to dance, and she was getting a lot more criticism online from body shamers."
The source adds, "Mariah underwent the procedure about a month ago, and she is already seeing some good results, and she feels a lot better."
Gastric sleeve surgery involves making the stomach smaller by removing a portion of it.
In 2012, Mimi, who graced the cover of Shape, talked to the magazine about her then-30-pound weight loss over three months after giving birth to twins Monroe and Moroccan.
In other news, Mariah on Tuesday was announced as one of the performers nominated for induction into the Songwriters Hall of Fame in 2018.
Copyright © 2017, ABC Radio. All rights reserved.