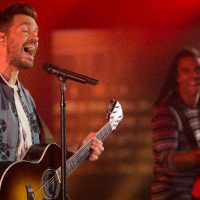 AT&T AUDIENCE Network Spend your Friday night with Andy Grammer.
A special concert from the singer will be airing on AT&T AUDIENCE Network via DirecTV this Friday at 9 p.m. ET/PT. The one-hour show was filmed in Los Angeles and features Andy playing his hits and fan favorites.
The special also includes a sit-down interview with series host Ted Stryker, during which Andy talks about how he got his start performing on the streets on L.A. and why connecting with people through his music is so important to him.
Andy's third studio album, The Good Parts, comes out on December 1.
Copyright © 2017, ABC Radio. All rights reserved.