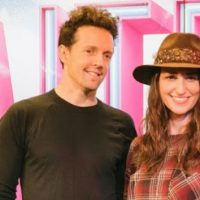 YouTube Space NYOn Friday, Jason Mraz will start a 10-week run as Dr. Pomatter in the hit Broadway musical Waitress, whose score was composed by his friend Sara Bareilles. Though the role will mark his Broadway debut, Jason insists he's not nervous.
"Sara's invitation gave me all the confidence in the world," he tells ABC Radio. "It was a huge compliment for her to ask me, so how could I say no?"
Jason also says Sara convinced him that he "would love everyone, and they would love me, and she was so right."
"From day one I've been so welcomed and encouraged and inspired by their level of professionalism and artistry, that I feel completely transformed and part of this family already," he tells ABC Radio.
While Jason was initially concerned that he was too young to play Pomatter — a married OB-GYN who has an affair with his married, pregnant patient — he realized he and the character have some things in common: Jason says they're both "goofy," "a little clumsy" and "shy."
Sara tells ABC Radio that she only thought of Jason for the role "just a few months ago," and expected him to say no, but was pleasantly surprised when he emailed her to say, "The idea scares me and the idea excites me, so that means I should probably pay attention."
"Jason brings this wonderful open heart and willingness to play," she adds. "Watching his progression in rehearsals, it's like, from day to day, you don't know what you're going to get. And that is so exciting to see on stage."
As for what it's like for Jason to sing a bunch of songs he didn't write, he says, "It's a gift…the melodies are beautiful, the messaging, the humor — the songs contain so much of what I love."
Copyright © 2017, ABC Radio. All rights reserved.