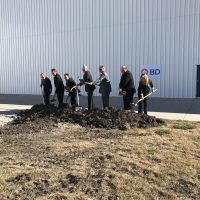 COLUMBUS- Yesterday, Governor Ricketts joined state and local leaders to break ground on a $60 million upgrade of BD's Columbus-East facility.
Columbus Mayor Jim Bulkley and Councilman John Lohr offered words of support for the expansion. Duane Ostdiek, plant manager for the BD Columbus-West facility highlighted the 50th anniversary of cannula which is used in a variety of health care applications manufacturing at the facility. Bill Campbell, plant manager of the BD Columbus-East facility was also present. The 69,000 sq. ft. expansion will transform the Columbus-East facility into the flagship plastic injection molding manufacturing facility for BD, and it will become one of the largest and most sophisticated plastic molding plants in the world.
The project is expected to be completed by 2021.