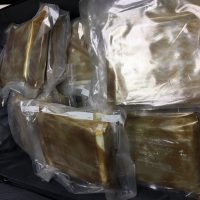 OMAHA- Federal authorities have arrested a man after what officials say was the largest seizure of the drug fentanyl ever in Nebraska.
Drug Enforcement Administration agents arrested 27-year-old Edgar Navarro-Aguirre on Wednesday after seizing about 33 pounds of the drug, which is an opioid up to 50 times more potent than heroin. The U.S. Attorney's Office says Navarro-Aguirre was traveling on an Amtrak train and was waiting at the Omaha station when agents noticed a suspicious bag. After getting approval to search the bag, they found the fentanyl.
Navarro-Aguirre faces charges of possession with intent to distribute a substance containing fentanyl.