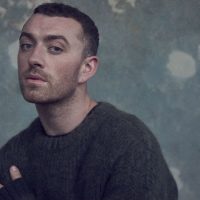 Ruven AfanadorDon't try to diss Ed Sheeran when Sam Smith is around.
Sam came to Ed's defense recently after an Australian radio DJ called Ed a "song whore."
During an interview with KIIS FM's The Kyle and Jackie O Show, host Kyle Sandilands asked Sam why he doesn't sell his unused songs to other artists. Sam explained that his songs are still very personal to him, so he doesn't feel comfortable giving them away.
The host then compared him to Ed, claiming Ed is someone who "whores all [his] songs out and teams up for all the group songs. If it it's like sex, [then] Ed is a song whore."
Sam quickly disagreed with the comments, saying, "Ed is not a whore."
He continued, "Ed Sheeran is an incredible songwriter and the way that he's written these songs for other people is just absolutely incredible and I'm enamored by him."
Sam joked that another possible reason he doesn't distribute his songs to other artists is because maybe his unused songs "are just s***."
"I think Ed's success rate with his writing is just amazing and I love his stuff," he added.
Ed has written or co-written songs for the likes of One Direction, Rita Ora, Liam Payne, Justin Bieber, Tori Kelly, The Weeknd and many more.
Copyright © 2017, ABC Radio. All rights reserved.