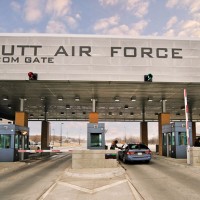 OFFUTT AIR FORCE BASE- The Offutt Air Force Base near Omaha is hoping to survive the next round of military base closures with two new projects.
The Pentagon has given about $1.2 billion to the construction of a new headquarters for the U.S. Strategic Command at the base. Design work has begun on a second project meant to improve an 11,700-foot runway that's expected to cost between $50 million and $100 million. The Pentagon has long wanted base closures in hopes of reducing overhead costs. The U.S. Senate included a provision to study more base closures beginning in 2019 in the defense authorization bill passed last month.
If the House agrees to it, the closings could follow in the early 2020s.