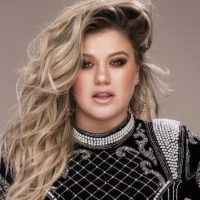 Vincent PetersKelly Clarkson was inspired by her husband, Brandon Blackstock, to show off her sexier side on her new album The Meaning of Life.
"He makes me feel so sexy," the singer tells Entertainment Tonight. "I already am a confident woman — I don't think that's a secret. But I love being with somebody who is unafraid of making you feel sexy."
Kelly adds, "I always make fun of him, like, 'Why are you touching my behind in public?' He'll like, goose me or something, somewhere, and I'm like, 'What are you doing?!' but I really like it."
As for the album's title, Kelly says the meaning of life is about learning to let go of what you can't control.
"Anytime our 16-year-old asks me questions, you know, life questions, it's always like, just calm down and don't take it all to heart. You gotta be easier about life. Let it go," she says. "You cannot control people, you can't control what they're gonna say, you can't control them being mean. Let it go, live your life and do what you feel is right."
Kelly says that wisdom was something she only discovered as she got older.
"Once I turned 30, my shoulders relaxed," the 35-year-old says. "Everything was like, 'OK, we can't be all things to all people all the time.'"
The Meaning of Life is set for an October 27 release.
Copyright © 2017, ABC Radio. All rights reserved.