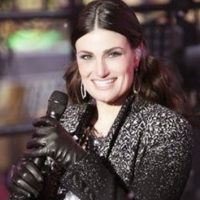 ABC/Lou RoccoWe don't know if her guests yelled "Let it Go" as she prepared to toss the bouquet, but Idina Menzel got married over the weekend.
The singer and Broadway star tweeted, "Wanted to let you know… Married the love of my life #aaronlohr this weekend @ our home. Dad & son walked me down aisle. It was magical."
Idina's new hubby is 41-year-old actor Aaron Lohr. They have been together since 2015 and were engaged a year ago. The two first met on the set of the 2005 movie version of the musical Rent.
According to People, Lohr has appeared on shows like Law & Order and The Mentalist, but he's also therapist and group facilitator at the Avalon Malibu Mental Health & Addiction Treatment Center in California. He has a master's degree in psychology and criminal justice.
Idina was previously married to Taye Diggs; they split in 2013. They have a son, Walker, who's 7.
Copyright © 2017, ABC Radio. All rights reserved.