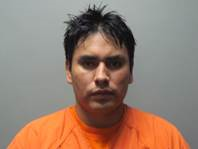 WAHOO- An inmate who battled a deputy and escaped Wednesday afternoon has been captured in Pottawattamie County.
Officials say 37-year-old Eric Scott escaped and commandeered a gray Chevrolet Impala that was found in the parking lot of Nebraska Furniture Mart. Police believe Scott took another vehicle and fled southbound on Highway 77 about 3 miles south of Ceresco. Officials say a Douglas County deputy was injured during the escape and suffered some injuries and was taken to a hospital for evaluation.
Scott is serving two to four years for fifth-offense drunken driving conviction.