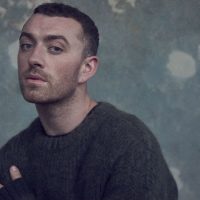 Ruven AfanadorWhile Sam Smith has won an Oscar for a movie song — his James Bond theme "Writing's on the Wall" — he hasn't actually acted in a movie. But he says at one point, he really wanted to star in a big screen romance…opposite Ryan Gosling.
Speaking to Attitude magazine, Sam explained that when he and James Bond producer Barbara Broccoli were in Mexico for the premiere of the Bond movie SPECTRE, they teamed up "to pitch the studio a gay rework of A Star is Born."
"We were drunk, and at that point, unaware that [Lady] Gaga was redoing it anyway," Sam recalled. "We had it all worked out. I wanted to [sing] 'The Man that Got Away.'" That song appeared in the 1954 version of A Star Is Born, which starred Judy Garland.
In his version of the movie, Sam planned to play the young rising star, portrayed by Barbra Streisand in the 1976 version of A Star Is Born, and by Lady Gaga in the upcoming remake that's coming out in 2018. When asked who would star opposite him as the established star whose career is in decline — a role played by Kris Kristofferson in 1976 and by Bradley Cooper in the upcoming remake — Sam had an immediate answer.
"Ryan Gosling!" he said. "I met him once and he shook my hand. It was like meeting Hercules. He's beautiful."
Now that's a movie many fans would no doubt be happy to pay full price to see in a theater.
Copyright © 2017, ABC Radio. All rights reserved.