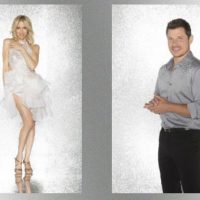 ABC/Craig SjodinA Dancing with the Stars season isn't complete without at least one pop star, and when season 25 of the ABC show debuts, there'll be two: '80s sensation Debbie Gibson, and '90s heartthrob Nick Lachey of 98 Degrees. But both singers have very different reasons for wanting to compete.
Nick and his wife Vanessa are both competing this season, and for Nick, DWTS is a family tradition: his brother and band mate Drew Lachey won the show's second season. But it's taken Nick a while to warm up to the idea.
"I had been offered to do the show in the past and I always said no 'cause I just never really liked to dance that much…I was always a little afraid," he tells ABC Radio. And unlike other boy band members, Nick says, he has zero dancing talent.
"It was obviously a part of what we did, but we were kinda the non-dancing boy band," he says.
But Nick, a father of three, finally decided to conquer his fear.
"You can't be a parent and tell your kids, 'You can't be afraid to do things, you gotta try things' [and then not do it yourself]," he explains. "I gotta kinda practice what I preach."
As for Debbie, she's dancing to get back in action after battling Lyme disease for the past five years.
"It was just time for me to get moving…to get out there again," she says. "I was so sick and tired of being sick and tired. And I thought, 'Maybe if I just take that step forward, the rest will follow.'"
She adds, "Even though my body doesn't feel as prepared as it should, I feel like my spirit needs to lead the way."
Dancing with the Stars returns September 18 on ABC.
Copyright © 2017, ABC Radio. All rights reserved.