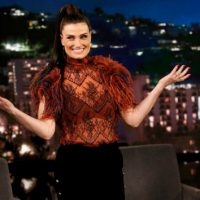 ABC/Randy HolmesEver since Idina Menzel belted out "Let It Go" as Queen Elsa in Frozen, any number of little boys and girls around the world have tried to imitate her. Idina admits that even her own son Walker imitates her…but not in a nice way.
Speaking to Vegas magazine, the Tony-winning star says, "Yeah, he has an impression of me. He is not overly impressed by my Elsa or Frozen, and he likes to make fun of Mommy sometimes, and sing 'Let It Go' in a very high C, and sometimes dress up as Mommy, and sort of — well, for lack of a better word — mock his mom."
"And that's okay," she adds. "I think he's appreciating what I do more and more the older he's getting."
When asked whether or not that high C was any good, Idina laughs, "Of course! He's got perfect pitch and great rhythm. He's just not taking it seriously yet. I think he's resisting that side of himself right now because I think he thinks mom and dad do that, and something about that he's just not getting into."
Walker is Idina's son with her ex-husband, Taye Diggs.
While she says the boy, who just turned eight, is very "artistic and creative," Idina admits, "I don't know if he resents it because it's that creative part that takes mom and dad away from him. It's our job, so maybe that's his little dilemma at this age."
Copyright © 2017, ABC Radio. All rights reserved.