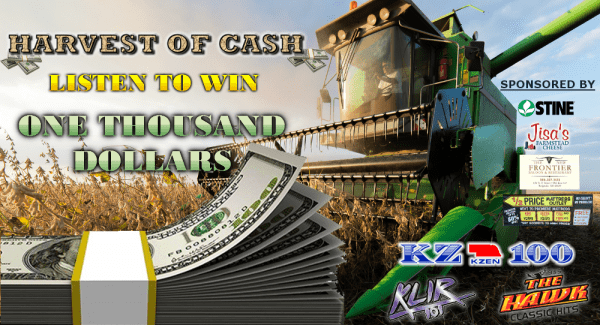 Harvest of Cash
KZEN, KLIR, and KKOT is giving a chance to win $1,000 5 times a day for 5 weeks!!
Time to program the text number into your phones, so you're ready to go Tuesday, September 12th at 7am!
Every weekday, listen for the special keyword given at
7:00am, 9:00am, 1:00pm, 3:00pm, 5:00pm
It's a different keyword every time and you can only get the keyword by listening for it!
Text that keyword to
67760

for a chance at $1,000 (there's a limited window so act fast)!
CONTEST ALLOWS UNLIMITED ENTRIES, BUT PARTICIPANTS MAY ONLY WIN $1000 ONCE THROUGHOUT THE DURATION OF THE 5 – WEEK CONTEST
Must be 18 years or older to play. This is a texting contest. This is an Alpha Media company-wide contest. One winner will be chosen each time. Message and data rates apply. For complete rules, click HERE.