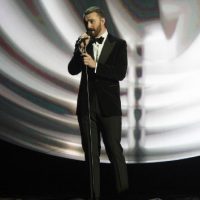 ABC/Image Group LASam Smith posted photos of himself earlier this week "rehearsing," but rehearsing for what? Now we know, apparently.
In an email message to his "beautiful" fans, Sam writes, "The wait is so nearly over. Something is coming very very very very soon." Given that Friday is the traditional day to release new music, we just may get something this week.
Sam also apologizes for the three-year wait for new music.
"Thank you for being so patient and for letting me have the past year to really escape into my mind & write music so freely," he says. "I feel so rejuvenated and have so many stories I can't wait to tell you."
"I have missed you all desperately, and a day hasn't gone by when I haven't been looking at all your comments & dreaming of singing with you all again," he adds. "The wait is so nearly over…I am scared & excited at the same time. I've poured my soul and heart into this record."
Sam also says he'll see his fans in the "not-too-distant future."
Sam's debut album, In the Lonely Hour, was released in 2014 and won him a slew of Grammys, among other awards. He also won an Oscar for singing the James Bond theme "Writing's on the Wall," from the film SPECTRE.
Copyright © 2017, ABC Radio. All rights reserved.