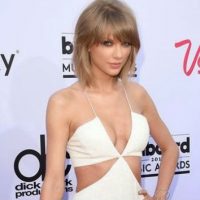 Jason Merritt/Getty Images via ABCMonday, Taylor Swift sent the Internet into a frenzy when — after completely deleting her Twitter feed — she posted a new tweet: a brief video of what looked like a snake. Well, now we can tell you it's definitely a snake, because in a second tweet Tuesday, Taylor posted more footage of apparently that same snake.
There are rumors that Taylor will release a new song this Friday, and that it'll be called "Timeless." So what does the snake have to do with anything? There's some speculation that she's reclaiming the snake idea from her haters…and from Kim Kardashian.
As you may recall, last year, Taylor's ex boyfriend, Calvin Harris, went after her on Twitter, accusing her of trying to make him look bad. Calvin fans responded by posting snake emojis on her Instagram feed.
Also last year, Taylor denied she knew that Kanye West had planned to name check her in his song, "Famous." But then Kanye's wife, Kim Kardashian, released a video on Snapchat of a call between Taylor and Kanye, in which Taylor enthusiastically discusses the song with Kanye.
Kim famously clued fans into that post by tweeting a bunch of snake emojis, and again, haters flooded Taylor's Instagram feeds with the same emoji. Then all the snake emojis disappeared from Taylor's feeds.
Not long after that, Instagram CEO Kevin Systrom revealed that that the company had created a filter that would allow stars to delete certain words and emojis from their feeds, and that Taylor's feed was its first test case.
So, are Taylor's snake posts now her reaction to the controversy last year…or is she calling someone else a snake? Or neither? We'll just have to wait to find out.
— Taylor Swift (@taylorswift13) August 22, 2017
Copyright © 2017, ABC Radio. All rights reserved.