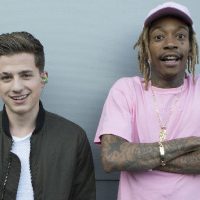 ABC/Randy HolmesSorry, "Gangnam Style" — you've been horse-danced out of the top spot. "See You Again" by Charlie Puth and Wiz Khalifa has just broken that song's record for the most-viewed video of all time on YouTube.
At 5:30 ET on Monday, "See You Again," from the movie Furious 7, hit 2,894,026,649 views, surpassing PSY's "Gangnam Style"'s previous record of 2,894,022,885 views to set the new milestone.
"See You Again" has been averaging in over 3 million views per day, and that's just in 2017 alone.
"Gangnam Style" has held the most-viewed record on YouTube for five years, since it first surpassed Justin Bieber's video for "Baby" back in 2002.
In a statement, Charlie says, "I remember when I signed up for YouTube in 2007 and had hopes of uploading a video and it reaching 10,000 views. Now a decade later, it feels incredible to be a part of the most-viewed video on YouTube."
Wiz added, "I'm super excited and grateful to everyone who supported the song and video on YouTube, and happy to inspire and impact so many lives."
Copyright © 2017, ABC Radio. All rights reserved.