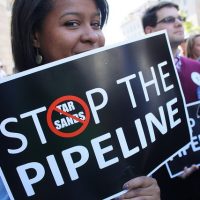 O'NEILL- The battle over the Keystone X-L is heating up in Nebraska. The Trump administration gave a green light to the pipeline, and it's up to the Nebraska Public Service Commission to decide if TransCanada will be allowed to construct part of the route through the Sandhills. The $8 billion pipeline would transport more than 800,000 barrels of crude oil from Canada's Alberta tar sands to the Gulf of Mexico. Supporters say the Keystone X-L is good for the economy and will increase the nation's energy independence.
Bold Alliance President Jane Kleeb disagrees, and contends the pipeline will never be in the public interest…
Kleeb adds if the Public Service Commission grants the permit, it will be the first time Nebraska has given a foreign company eminent-domain rights….
According to the Institute for 21st Century Energy, the pipeline would create more than 20-thousand new jobs by 2020, including 300 in Nebraska. Public comments will be taken at a hearing today (Wednesday) in O'Neill, with local landowners, activists, and concerned citizens expected to testify, along with representatives from TransCanada and the oil and gas industry. A third hearing with formal testimony is scheduled for early August.