LINCOLN — The average Nebraska agricultural land value has declined by about 10 percent over the past year, according to preliminary findings from the University of Nebraska-Lincoln's Farm Real Estate Market Survey. This marks a decrease for the third year in a row, totaling about 15 percent for weighted average farmland value in Nebraska.
The statewide all-land average value for the year ending Feb. 1 was $2,805 per acre, down $330 per acre from 2016. Average farmland values for the eight districts and the percentage decrease from 2016 were: northwest, $755 (8 percent); north, $1,180 (5 percent); northeast, $5,410 (10 percent); central, $3,360 (11 percent); east, $6,330 (9 percent); southwest, $1,720 (12 percent); south, $3,985 (6 percent); and southeast, $4,840 (15 percent).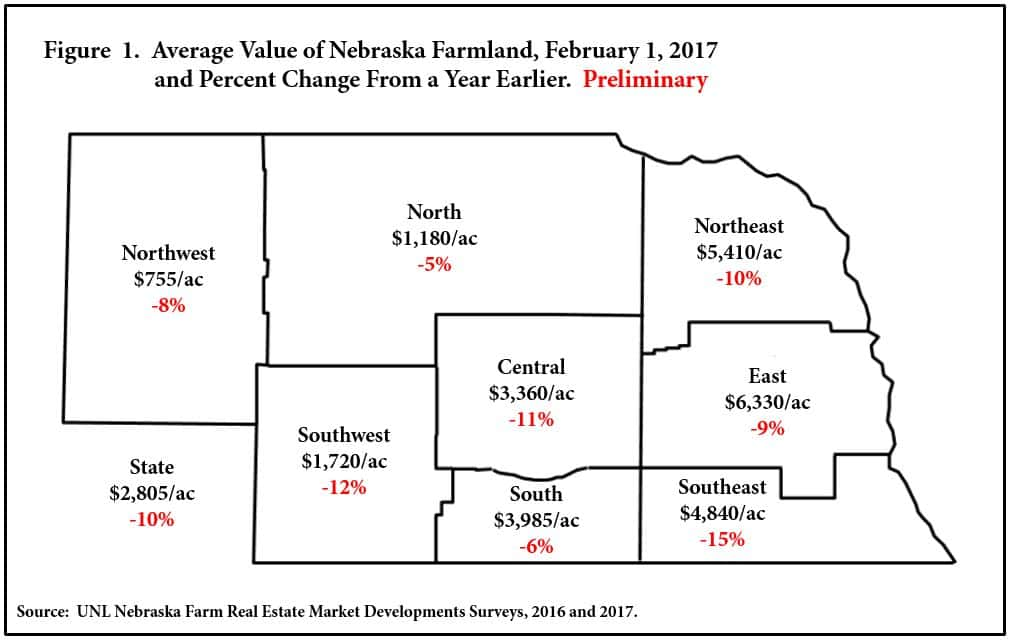 Participants of the survey were asked how they felt current economic forces were influencing land values. "Many of the survey participants have noted that the current state of where commodity prices are…are one of the number one forces influencing the lower estimated market value of land," says Jim Jansen, Agricultural Systems Economists with Nebraska Extension. "The current input expenses is also another factor."
The largest price decline by land class occurred in dryland cropland with irrigation potential, which dropped 13 percent, followed by tillable grazing land at 12 percent. Survey participants attributed the declines to the current sustained period of lower commodity prices and the anticipation of lower values.
Dryland cropland without irrigation potential and nontillable grazing land reported a 10 percent decline across Nebraska. The sharpest declines in this area were reported in the central, southwest and south districts. These districts tend to be the major wheat-producing regions of the state, and the small grain experienced exceptionally low commodity prices in 2016.
Across Nebraska, gravity-irrigated and center pivot-irrigated cropland reported rates of decline ranging between 6 and 4 percent, respectively. Survey participants said the availability of water for irrigation and policies guiding the utilization of this resource could negatively affect the market value of these two land classes into the future.
Rental rates for agricultural land also declined in 2016. Irrigated cropland rental rates on average declined between 5 and 10 percent across Nebraska. Agricultural land ownership expenses remain high as property tax levels continued to rise on average across the state. This dynamic makes negotiating an equitable rental rate challenging for landlords and tenants, according to survey participants.
Pasture and cow-calf pair rental rates fell 5 to 15 percent across Nebraska. Besides the productivity of the grazing land, other factors influencing rental rates include fence maintenance and weed control.
The preliminary report can be found at http://agecon.unl.edu/cornhuskereconomics.
Preliminary land values and rental rates are subject to change as additional surveys are returned. Final results from the survey will be published in early June and will be available at http://agecon.unl.edu/realestate.
"Typically we have around 75 percent of responses in by this point in early March," says Jansen. "The final report will give additional detail. I would expect very similar trends from what we're seeing right now."
Land appraisers, farm managers and agricultural finance professionals from Nebraska interested in participating in future Nebraska Farm Real Estate Market Surveys are invited to contact the Department of Agricultural Economics at 402-472-3401 or agecon@unl.edu.