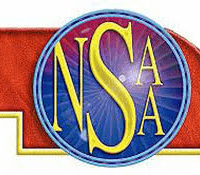 The AP Nebraska high school football rankings are out Tuesday. Scotus slid three spots to number 5 in Class C-1, following the Shamrocks' loss to Bishop Neumann.  The Cavaliers remain number 1.
Lakeview dropped out of the top 10 following the Vikings loss at Norfolk Catholic, while the Knights moved up a spot to number 2.
Aquinas is up one spot to number 3, while Boone Central/Newman Grove is down one notch to number 8.
High Plains Community remains ranked third in D-1 and Humphrey St. Francis is still the top-ranked team in D-2.
All three local schools will be on the air this Friday.  Scotus hosts Pierce at 6:30 p.m. on KLIR 101.  At 7 p.m. on KZ-100, Columbus visits Grand Island Northwest, which is ranked number 10 in Class B.  And Lakeview entertains Fort Calhoun on 93.5 The Hawk, with a 7 p.m. kickoff.