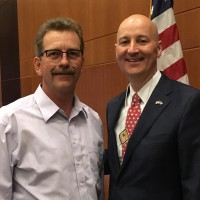 COLUMBUS- Today, Governor Pete Ricketts announced his endorsement of veteran and conservative Bruce Bostelman of Brainard in Legislative District 23, which includes Butler, Colfax, and Saunders counties.
"Bruce is a conservative, who will represent the conservative principles of the citizens of Butler, Colfax, and Saunders Counties with integrity," said Governor Ricketts.  "His real-world experience as a veteran and ag producer will add invaluable perspectives to the Legislature.  We can count on him to oppose illegal immigration, protect public safety, and hold the line on taxes."
"Thank you to Governor Ricketts for his endorsement," said Bostelman.  "His leadership has provided over $400 million of property tax relief to Nebraska's families.  I look forward to the opportunity to work with him to provide additional tax relief, protect the Second Amendment, and advocate for pro-life laws."
Earlier this year, Bostelman announced his candidacy for Nebraska Legislature. He is campaigning to provide property tax relief, support quality educational opportunities, create affordable housing, and maintain the heartwarming quality of life to raise families that Nebraskans are known for throughout this country. He has promised to advocate for pro-life values, fight EPA overreach, and defend our Second Amendment rights.
Born in Superior, Bostelman served in the Air Force for 20 years before returning home to Nebraska to settle on a farm near Brainard, where he works in agriculture in alternative crop research and development. He received a bachelor's degree in Business Management from Bellevue University.  He has been married to his wife, Jan, for 24 years and they are the proud parents of two children and two grandchildren.
Bostelman is challenging incumbent Jerry Johnson in the race to represent Legislative District 23. Last year, Johnson voted to raise the gas tax, grant driver's licenses to illegal immigrants, and repeal the death penalty. If elected, Bostelman has promised to oppose tax increases, fight attempts to give public benefits to illegal immigrants, and support efforts to retain the death penalty.