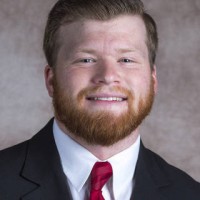 About 1,500 people attended the funeral service for Nebraska punter Sam Foltz in Grand Island on Saturday.  Many remembered the talented young man's outgoing yet humble personality and willingness to help others.
The crowd at Blessed Sacrament Catholic Church included seven busloads of teammates, coaches and athletic department officials from NU.
The 22-year old Foltz died July 23rd in Wisconsin in a car crash that also claimed the life of former Michigan State punter Mike Sadler.  Hundreds of people turned out at Spartan Stadium on Sunday to celebrate Sadler's life.
Foltz and Sadler had been attending a kicking clinic for young players.