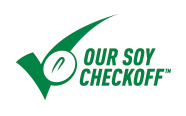 MINNEAPOLIS–Together, the U.S. soybean industry can achieve more. That's a key takeaway from the five-year plan the United Soybean Board (USB) put further into motion this week. Through a portfolio of programs, the national soy checkoff looks to collaborate with industry more than ever to bring solutions that will improve profit potential for U.S. soybean farmers. 
The checkoff has seen successful partnerships in the past, including working with John Deere and Ford to bring new industrial uses to the market. This model of working with industry will help frame the direction of the board moving forward. It will also allow the checkoff to understand different perspectives within the industry. 
"To maximize soybean farmer profitability, we can't just wear the farmer hat. We have to look at the needs of other stakeholders in the value chain and find ways to work together so everyone wins," says Jared Hagert, USB chair and farmer from Emerado, North Dakota. "Our end users are no longer looking for just a bulk commodity; they want quality, too. It's time for us to start thinking beyond the bushel and working with industry to help meet the needs of those users." 
USB met this week to provide direction on key strategies that have the biggest opportunity to impact U.S. soybean farmer profitability: meal, oil and sustainability. Farmers looked at issues affecting the marketplace that U.S. soybean farmers currently operate in and what that marketplace might look like in the future. They invested checkoff dollars in programs aimed at maintaining supply, ensuring demand and addressing factors in between.  
"Our conversations continue to look for ways to add value beyond the bushel, we have discovered more opportunities to meet the needs of those purchasing our soy," adds Hagert. "We've seen the need for high oleic soybeans and the oil they produce for the food industry and reacted aggressively. Now, we also have to focus on the needs of our meal customers and the sustainability demands of those purchasing meal, oil and whole U.S. soybeans."
In addition to the work of the board, the soy checkoff also heard insights from key industry experts discussing transportation, sustainability and marketplace dynamics. Major players Syngenta and DuPont Pioneer also took the opportunity to address the board and get feedback directly from farmer-leaders who represent their customers.  
"We heard from the top minds in the industry to learn more about our key issue areas and to brainstorm ideas of ways to address them," says Hagert. "The more we understand from industry perspectives the better our programs can be in delivering profit opportunities for U.S. soybean farmers. 
Earlier this month, USB Chief Executive Officer John Becherer announced his retirement, set to take place December 2017. This week, the farmer-leaders approved a transition process and farmer team to lead the transition.