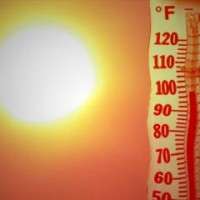 * TEMPERATURE…READINGS ON WEDNESDAY WILL BE IN THE MID TO UPPER  90S WITH HEAT INDICES APPROACHING 105-110 DEGREES. THURSDAY AND  FRIDAY ARE EXPECTED TO BE THE HIGH IMPACT DAYS WHEN AFTERNOON  TEMPERATURES WILL CLIMB INTO THE UPPER 90S TO AROUND 100  DEGREES…YIELDING HEAT INDEX VALUES OF 110 DEGREES OR GREATER.
* WINDS…EACH DAY THERE WILL BE A GOOD SOUTHWEST BREEZE, HOWEVER  THIS BREEZE FALLS OFF OVERNIGHT MAKING IT FEEL MORE STIFLING.
* IMPACTS…THE LONGEVITY OF THE EVENT WILL RESULT IN A
POTENTIALLY DANGEROUS SITUATION FOR SENSITIVE GROUPS…
INCLUDING CHILDREN…THE ELDERLY…OR THOSE WITH MEDICAL
CONDITIONS. LEAVING A CHILD OR PET IN AN ENCLOSED VEHICLE CAN
BE DEADLY…EVEN FOR A SHORT PERIOD OF TIME.
PRECAUTIONARY/PREPAREDNESS ACTIONS…
AN EXCESSIVE HEAT WATCH MEANS THAT A PROLONGED PERIOD OF HOT  TEMPERATURES IS EXPECTED. THE COMBINATION OF HOT TEMPERATURES AND  HIGH HUMIDITY WILL COMBINE TO CREATE A DANGEROUS SITUATION IN  WHICH HEAT ILLNESSES ARE POSSIBLE. DRINK PLENTY OF FLUIDS… STAY IN AN AIR-CONDITIONED ROOM… STAY OUT OF THE SUN… AND CHECK UP ON RELATIVES AND NEIGHBORS.