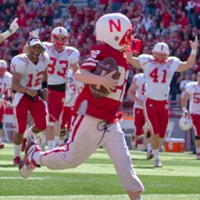 The fourth annual Nebraska Football Uplifting Athletes Road Race takes place this Sunday. Wednesday is the last day to register for the event.
A one-mile fun run begins at 8 a.m. and a 5K run will follow with an estimated start time of 8:30 a.m. in Lincoln. Sunday's race will start and finish on Stadium Drive just outside the west side of Memorial Stadium.
The race raises funds to fight Pediatric Brain Cancer. The cost is $25 for the one-mile run and $30 for the 5K.
You can register for the race by going to upliftingathletes.org and clicking on the N logo.