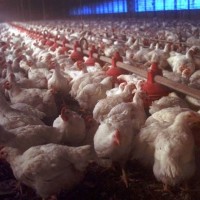 SCOTT KOPERSKI Beatrice Daily Sun
Gage County supervisors struck down a special use permit for a controversial poultry farm Wednesday.
The farm would have housed 150,000 birds on South 38th Road about 2 miles east of Cortland.
Area residents have spoken out against the proposal at meetings of the County Board and Planning and Zoning Commission, citing concerns about the smell of manure, disposal of dead chickens and the effect of more trucks on the road. About 20 homes stand within a mile of the proposed site.
Supervisors voted 5-2 on Wednesday to deny the permit.
A key factor in their decision was a permit which application board members said had too many variables, specifically related to manure storage and disposal of dead chickens.
"This seems incomplete," said Commissioner Gary Lytle. "You have several things presented to you, but there's nothing in concrete. There's no, 'This is the way it's going to be handled.' That's the thing that I'm disappointed in."
Roy Mulder, who applied for the permit, said an official with the Nebraska Department of Environmental Quality approved his plan to store manure south of a barn on the farm, and that the manure would be stored within setback requirements.
Multiple board members said they wanted specific information on where the manure would be stored, which Mulder said was difficult to pinpoint before the barns are built but assured the board it would be stored as close to the barns as possible and within setbacks.
"It's going to be as close to the south end of the barn as we can get," Mulder said. "We're not going to carry it very far because it's impractical to do that. Why would I take it clear to the south end some place? It's going to be up there by the driveways where we can handle it when the time comes."
The chickens, raised for meat production, would have arrived at the farm at 2 days old and been raised for MBA Poultry. The proposed location was relatively close to Tecumseh, where the company's processing plant is.
The barns would have come with an assessed value of $1.9 million, and required one full-time and one part-time worker to operate.
County Commissioner Matt Bauman, who along with Erich Tiemann voted against denying the permit, questioned later after the vote whether the decision could affect Gage County's designation as a livestock-friendly county.
Commissioner Dennis Byars said he and the county are livestock supporters, but in this instance, the facility would have been detrimental to the people living in the area.
"I have a real problem with why you can't find a more appropriate area to place this facility," he said. "I'm an ag supporter, have been my entire life. That's what's made this entire community. But I'm having a real problem with this one."
Ultimately, the county may consider amending or re-examining its setback requirements, a process County Attorney Roger Harris warned could cause more controversy than commercial wind energy regulations, which drew much debate before they were amended earlier this year.
"It's a balancing act between what I want and my neighbor wants for competing property interests," Harris said. "We're both right. There has to be a compromise. That's what your zoning regulations are, a painstaking compromise … it's very emotional. That's why you have to balance it."