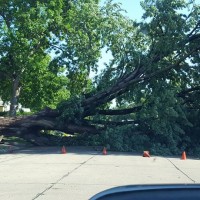 COLUMBUS- Reports continue to come in of damage from the area storm overnight. Strong winds, rain and some hail in spots brought down trees and limbs and knocked out power in Columbus Tuesday night.
Extra city crews and police were called in overnight to help with damage cleanup. Power companies worked through the night to restore power from downed power lines and transformers that started fires. No injuries and no structural damage were reported. Crews were still working this morning to restore power to some Columbus residents.
The Dodge County Sheriff's Office said some customers lost power but no structural damage and no injuries were reported.